Tutera's Carnegie Village Senior Living Community
Tutera's Carnegie Village Senior Living Community Wins Prestigious 2021 Capstone Award for Top Kansas City Real Estate Projects.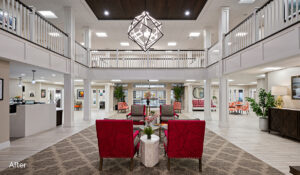 Tutera's Carnegie Village Senior Living Community – a luxury senior living community in Belton, Missouri – is among 32 construction projects selected from more than 100 submissions to receive a prestigious 2021 Capstone Award, honoring the top real estate and development projects in the Kansas City metropolitan area.
The Kansas City Business Journal recently featured the 2021 Capstone winners in a special print publication, as well as a digital special section. Carnegie Village Senior Living Community is only recipient in the senior living category, recognized for enhancing and transforming the Kansas City area.
Honorees were chosen by a panel of independent judges based on project size, community impact and innovation – and had to be move-in ready by the end of 2020, which was a real feat given the challenges of last year.
Honorees will be celebrated and presented with the Capstone Award at a formal reception on Thursday, September 30, 2021, at the Arvest Bank Theatre at The Midland. Key players to be honored include project architect NSPJ Architects, and interior designer Marian Tutera, as well as general contractor Dade Construction LLC and engineer Bob D. Campbell & Co. These honorees were instrumental in bringing this renovation project to fruition.
Tutera Senior Living & Health Care tapped its 35 years of award-winning senior living expertise to provide the services and amenities most valued by residents, their families and staff at Carnegie Village. Carnegie Village – located at 107 Bernard Drive in Belton, Mo. – offers upscale residential options with country club-style amenities. Carnegie Village comprises 183,826 square feet on 22 beautifully landscaped acres.
"Great design changes people's live for the better. We are proud to see the design of our Carnegie Village Senior Living Community recognized among the most notable new developments in the Kansas City area," said Joe Tutera, chief executive officer of Tutera. "We care deeply about the happiness and wellness of our residents and the prestigious Capstone Award recognizes our continued commitment to creating the most luxurious and enjoyable lifestyle for area seniors."
The rental-based Carnegie Village provides a complete continuum of care with independent living and assisted living apartment homes, as well as memory care services, and an upscale rehabilitation center. The range of residential options are designed to meet the diverse lifestyle preferences of every senior who lives at Carnegie Village.
On October 1, the Kansas City Business Journal will publish further details about each of the honorees with profiles of each project to be reported in the weekly print edition and online.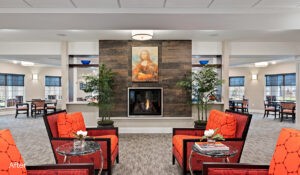 About Tutera Senior Living & Health Care
Tutera Senior Living & Health Care is a locally owned, diversified post-acute senior health care provider operating 75 senior living communities in nine states throughout the country. As one of the nation's premier senior care providers, Tutera Senior Living & Health Care offers its residents independent living, assisted living, skilled nursing, post-surgery rehabilitation, memory care, home health and hospice care. In 1983, Dominic F. Tutera, M.D., founded Tutera to provide compassionate patient care with the uncompromising values of integrity, respect, hospitality and selfless service. Tutera Senior Living & Health Care still embodies those values today. Tutera is committed to making a positive difference in the lives of its residents and their families through senior living and health care experts who inspire and promote individuality and personal happiness.
For more information, visit www.Tutera.com.