An Urban Infill Energy Saver
By Carina Calhoun
East of Market is the first community in the City of Fredrick, Maryland to achieve both ENERGY STAR® and LEED for Homes Gold certification in this 160-unit multifamily complex
Surrounded by existing commercial and residential developments, East of Market in the City of Fredrick, Maryland, is a 160-unit multifamily complex that is both ENERGY STAR® and LEED Gold certified—a first for the City.
Developed by the Duffie Companies—a family owned business—the units range from one to two bedrooms with eight different floor plans. With homes ranging in square footage from 719 to 1,128, the project has enjoyed extraordinarily strong leasing activity since it opened in April of 2015 and hit 100 percent occupancy by early 2016. Even the community's beautiful model home was sacrificed to satisfy the demand.
The units offer an open-concept design that provides flexibility for furniture arrangement and interior design. The modern kitchens include sleek espresso cabinetry, stainless steel appliances, tech stations, and granite countertops. Nine-foot ceilings, wood-style flooring, and large windows provide natural light and contribute to the energy-saving features.
East of Market also offers an abundance of amenities. The community is adjacent to a large City park and offers 24 hour access to a brand new clubhouse with club room, business lounge, catering kitchen, simulation zone, fitness center, and pool. Other amenities include outdoor grilling and dining areas, an on-site pet park and grooming station, and bicycle garages.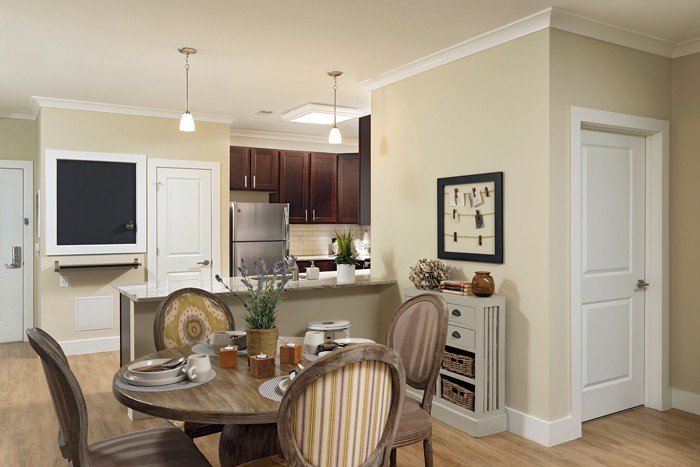 The project was originally designed by a national homebuilder as four, five-story buildings. When the national builder abandoned the site during the great recession, the Duffie Companies picked up the pieces and engaged in a comprehensive redesign of the property. In response to the concerns of neighbors, the four, taller five-story buildings were replaced with five, less massive four-story buildings. Additionally, buildings directly adjacent to the neighboring townhomes were moved farther away from those homes.
In addressing orientation and how the project would interact with the established street, the site was designed to allow buildings to both front the primary road in order to give a more urban feel and at the same time provide attractive and functional interior spaces.
Shane Pollin, Director of Development of Duffie Companies explained, "As a long term investment, significant thought went into every detail of land design and project construction to ensure we were building energy efficient, sustainable, durable buildings above 'code minimum' standards." He continued, "Challenging us was the fact that in our market, sustainable design and utility costs are not something that most tenants ask about. At the same time, we recognized the opportunity presented in these areas. Energy efficiency was something that could be used as a real differentiator."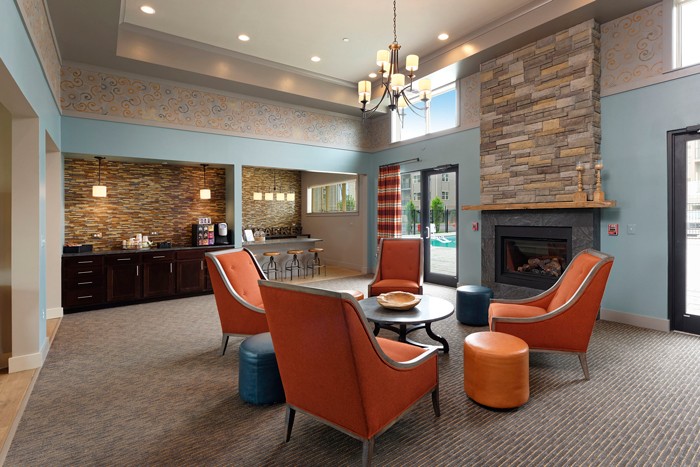 "Knowing that the project would be in the family for decades, we tried to think ahead and incorporate elements into the design and construction that would keep East of Market relevant and able to compete with newer buildings for years to come," said Pollin.
There were two key sustainable strategies that comprised the long-term approach taken at East of Market: Designing for energy efficiency and durability. To meet the ENERGY STAR® standard, the design team wanted East of Market to achieve measureable savings. The savings were achieved through three primary areas: air sealing, insulation and the specification of efficient lighting, appliances, and equipment. The average apartment earned a HERS score of less than 70, which not only contributed toward ENERGY STAR® certification, but also qualified every unit for a credit from the local utility company.
Additionally, having previous experience with projects requiring wasteful repairs due to poor detailing, Pollin said, "we chose materials and systems that are designed to last including use of a fluidized weather resistant barrier at the ground level, window sill dams at all windows, and self-ventilated claddings. We subscribe to the 'it's not if water will get in, it's when' theory."
Sustainable features throughout East of Market include: Level 2 electric vehicle charging in almost half of the 110 private garages; Versetta Stone™ exterior panels provide for integral ventilation that are lightweight, and may be uninstalled and reinstalled as conditions may require over the life of the building; Zip-R™ insulation is an innovative product that incorporates a continuous layer of foam laminated to the back of the Zip™ wall sheathing system, to name a few.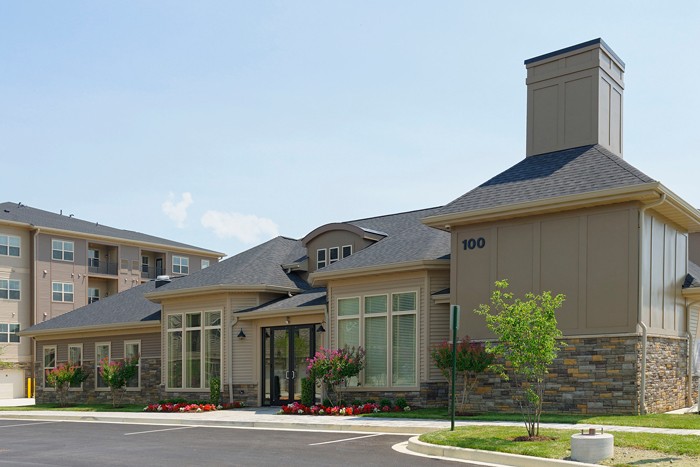 Additional energy-efficient elements include ENERGY STAR® rated appliances, energy-efficient lighting, energy saving elevators, programmable thermostats, ceiling fan hook-ups in all living areas and abundant natural daylight.
The developer plans to compile the energy-saving data and provide results to prospective residents. "It is not surprising that no one asks about utility costs when most buildings offer little improvement in that area," said Pollin. East of Market hopes to change the narrative by pointing to the quality and efficiency of their homes which have resulted in demonstrably lower utility bills. Simply through the provision of cost data by unit type, much like miles per gallon of a vehicle, Pollin hopes that "we will enable prospective residents to ask important questions when renting."
"Throughout the process, the development and leasing team stressed that the homes in East of Market were something special and a project about which the City, the neighborhood, our family and our residents could be proud," stated Pollin.
The Duffie Companies hopes to build upon the success of East of Market within the City of Frederick. An additional phase of East of Market is being evaluated. As for other projects, the company is currently constructing their new home office (targeting LEED CS and CI Platinum) and is also in the design phase of their first Hotel, which is targeting LEED NC Silver. Additionally, the developer has been selected by the Housing Opportunities Commission of Montgomery County Maryland as the lead developer of Hillandale Gateway, a multi-building mixed-use development in the Hillandale community of Montgomery County Maryland.
East of Market has been developed, constructed, and owned by a third generation family business, and the project represents a long-term investment of which the family can be proud.
Carina Calhoun is the Editor-at-Large for Builder and Developer magazine. She may be reached at ccarina@penpubinc.com.