Urban Infill Strikes Gold
The LEED Gold senior apartments at Dana Strand in Los Angeles, Calif., integrate affordable living with sustainable style.
By Carina Calhoun
Photography by Applied Photography
A successful partnership between the City of Los Angeles, the Los Angeles Housing Department (LAHD), Housing Authority of the City of Los Angeles (HACLA) and ROEM Development Corporation created the 100 new affordable units in a sustainable senior housing community of Dana Strand.
"The goal of the collaboration was to develop one of the highest-quality senior housing communities in the city," stated Jonathan Emami, vice president of ROEM Development Corporation, the developer. He reported the development was built on a remaining two-acre parcel within the larger surrounding 20 acres that had previously been the site of very old public housing needing replacement. The award-winning, LEED Gold certified community represents an amenity rich senior development with environmentally-friendly efforts.
Dana Strand Senior Housing represents the third phase of the redevelopment of Dana Strand Village, the former public housing site. It provides 100 one-bedroom senior apartments that are affordable to house seniors with annual incomes at or below 30 percent of the Los Angeles County Area Median Income. The development, designed by architectural firm KTGY Group, Inc., consists of three stories of high-quality construction with 82 parking spaces. Construction began in September 2010 and was completed in September 2012.
"The City of Los Angeles actively engages private partners that focus on solving the complex urban housing issues in Los Angeles," said Mayor Antonio Villaraigosa of the City of Los Angeles. "We believe that our residents are the ones who benefit the most from these public/private collaborations. We are not just building affordable housing at the Dana Strand Senior development; we are building ROEM Affordable Housing, which the city has found to be indistinguishable from market-rate housing."
"In a time when jobs are in high demand, the construction and operation of a senior community creates new opportunities for the city's local workforce. Being good stewards of this wonderful community is important to the stakeholders and all those that participated in the design and construction of this senior community," said Emami.
Also important to note, increasing the stock of highquality, affordable housing, particularly for seniors, is critical to the success of the residents of Los Angeles. The demand for these affordable apartment homes could be seen in the long lines queued up even before the leasing office opened each day.
According to Emami, the new residential community also embodies the best practices of new urbanism and smart growth transforming an underutilized site, particularly in a county where housing costs are beyond reach of many working families. Additionally, affordable housing located close to jobs allows individuals and families to build community and family life rather than spending considerable time commuting to work. An added benefit is the reduction in traffic and congestion on the roads, more time to volunteer and disposable income to spend locally.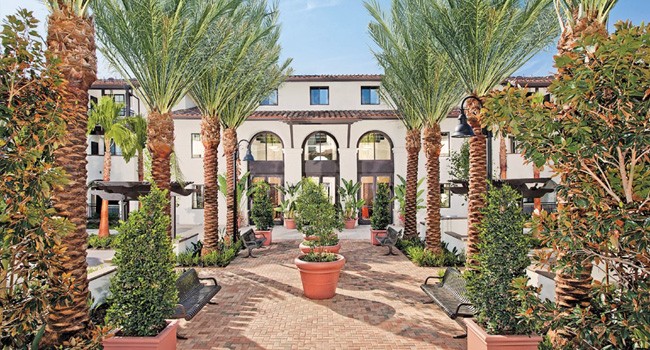 "This development gives local seniors an affordable way to continue living in their community," KTGY Group's Keith Labus, AIA, LEED AP and principal, said. "The central location keeps residents engaged in neighborhood activity, while the large private courtyard and clubhouse amenities give them a safe, quiet place to call their own." According to Labus, there is a long history of Spanish style courtyard homes in Los Angeles where housing is centered around a shared outdoor open space or garden. This concept was applied at a larger scale to create a private outdoor space that the residents can call their own.
Dana Strand combines eco-friendly, sustainable design with luxury, amenity-rich living at an affordable rental rate specifically targeting the needs of seniors. Dana Strand achieved USGBC's LEED Gold certification, the toughest in industry guidelines for sustainable building and maintenance. By utilizing the latest in USGBC's LEED strategies, the community has already begun to realize what ROEM sees as long-term benefit at the property operations level as well as inside the homes of its residents with reduced utility costs. "This development is an example of our continued commitment to build high quality, eco-friendly affordable housing that benefits our residents, visitors, and the surrounding communities we serve," said Emami.
High-energy efficiency features were integrated into the design of the development from the conceptual stages. These include items such as Energy Star refrigerators, bathroom fans with humidistat controllers, and dishwashers using 6.0 gallons per cycle or less. All lighting is also high-efficiency, which reduces electricity consumption and saves residents money. The overall design exceeds Title 24 efficiency standards by more than 30.6 percent, lowering energy consumption and providing another cost-saving benefit to residents. And, to minimize its environmental impact and enhance the health of its residents and construction team, the construction of Dana Strand Senior Apartments included a waste diversion program and the use of recycled, low-emission and regional materials. More than 75 percent of construction waste, even with the use of conventional wood frame construction, was diverted from landfill and recycled.
ROEM considered the sustainability of products used in the development of Dana Strand by focusing on the integration of environmentally preferable products. These include Green Label Plus carpet, low VOC paint, and locally produced cement and gypsum board. To eliminate the need for solid lumber, engineered structured materials such as Oriented Strand Board are used.
Providing a clean and ventilated indoor environment is important to the health of our occupants. ROEM implemented a Construction Indoor Air Quality Management Plan to ensure that the project reach the goal of maintaining acceptable indoor air quality before, during and after construction, and to prevent contamination prior to occupancy. The execution of the plan can be seen in the protection of HVAC equipment and ducts, pollutants source control, housekeeping rules, and most importantly, a two-week initial building flushout to remove any remaining air contaminants and help prevent future contaminations.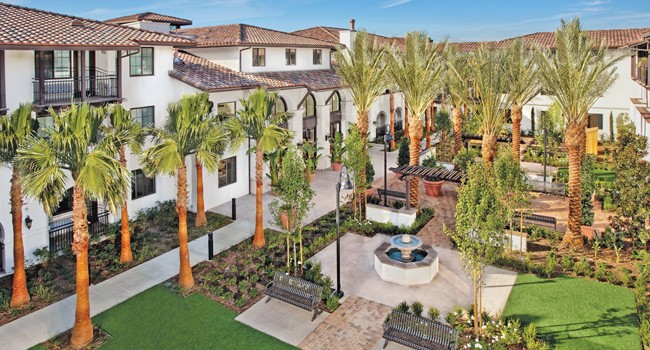 To ensure Dana Strand remains a highly efficient, sustainable development, ROEM believes it is essential to educate tenants and building manager on the green features so that the building can be properly maintained. Emami explained, "An operations and training manual will be created and distributed to tenants as well as the building manager. A onehour walkthrough with occupants and the building manager will be held following move-in to highlight the buildings sustainable features."
While the open unit plans and wide corridors make it easier for seniors with mobility limitations to get around, the amenities are what really make this community senior friendly. The amenities at Dana Strand include a computer center and community room along with a wide array of resident services, including computer classes, ESL classes, and resident events. With convenient access for active seniors in a walkable neighborhood that has been enhanced by the development of the high quality residential community, the residents can walk to the neighborhood coffee shop, restaurant, public library, park, the bank and grocery store. Dana Strand is also just a short distance from public transportation, linking its residents to all of Southern California. "The quality of the building and materials and the level of indoor and outdoor amenities are great for a project of this size, especially considering the level of affordability," said Labus.
The new residential community surrounds a lush landscaped courtyard over one-fourth acre in size giving residents a secure area to exercise and socialize. The courtyard contains both active and passive spaces including an open turf area, seating for large and small groups, fountain, barbeque area and a community garden which allows residents to personalize a piece of the larger community. Indoor amenities include a 1,425-square-foot community room, a tech room and a 750-square-foot media room with smaller, more intimate lounges at the front and rear of the building on the third floor.
In addition, this highly successful community also received the 2012 Gold Nugget Award of Merit for Senior Affordable Housing, the 2012 National Association of Housing & Redevelopment Officials (NAHRO) Merit in Housing and Community Development and National Association of Home Builders' (NAHB) Pillars of the Industry Award for "Best Affordable Apartment Community."
"In today's economic realities, builders will need to have the ability to work cohesively and collaboratively with all partners on affordable housing communities," said Emami. He continued, "The success of the project is contingent not only on the strength and knowledge of the construction team, but also on the ability of the team to be flexible to meet unforeseen challenges during the process, the ability to adapt to those challenges and the establishment of strong communication lines with all partners involved." The expertise of the team working Dana Strand was able to ensure the affordability and the sustainability of the project. HACLA provided the necessary land for Dana Strand, while the HAPP contract and tax credits increased cost-effectiveness of project and making it extremely affordable for low-income rents.
ROEM Corporation not only brought its knowledge of building high-quality, affordable housing, but also its expertise in building an environmentally sustainable community. Each of these elements was critical in the guaranteeing Dana Strand provides affordable units to a population in need.
Carina Calhoun is the editor of Builder and Developer magazine. She may be contacted at ccalhoun1@penpubinc.com.