The Resilience of Home Design.

By Ron Nestor, AIA
Superstorms, extreme drought, polar vortex, firestorms, wildland urban interface, king tides — these terms have become part of our lexicon as climate change dominates the news and our lives. While the debate over retreating from land due to rising sea levels, crumbling cliffs and fire threat continues, there are many design strategies that we may employ to make homes more resilient to weather.
In 1992 Hurricane Andrew devastated South Florida for five days, killing 65 and destroying more than 25,000 homes. This tragedy revealed loopholes in the building code and lax enforcement, resulting in significant reforms to the code, laws and practices for new construction that have served to protect homes and lives.
Drought has resulted in massive fires that have affected western states sending plumes of smoke across the country. We hear "the largest ever" used to describe one after another of these events. To help combat the potential of wildfire during extreme wind events, power authorities have cut off electricity to affected communities creating further havoc. Solar panels and battery storage may be more important as these events continue.
Last year, the Silverado Fire burned along many new master-planned communities which were protected by fuel modification zones and the brave efforts of fire-fighting crews.
The homes are primarily stucco with Class A concrete tile roofs and fire sprinkler systems. Homeowner associations are diligent with landscape maintenance and enforcing standards. After the fire, I found charred trees beyond the fuel modification zone, but nearly no landscape damage (other than a few toasted leaves) on trees in or within the modification zone.
These clearly work. In fact, fuel modification zones have performed remarkably well since implementation in Orange County in the 1990s, saving lives and homes. Other attributes such as boxed eaves, fire-rated drywall under finished wood porches and unvented roofs are additional considerations for fire-prone environments.
The February 2021 Texas snow storm revealed the vulnerability of the electrical grid. Design for snow can be critical to save lives. Simple, steep gable roofs provide areas where the snow can safely shed without blocking doorways, and stay clear of cars, meters and HVAC equipment. Durable metal roofs are often selected to aid in snow sheds.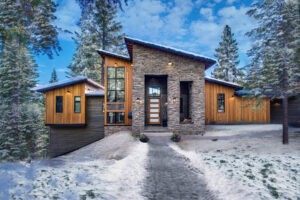 Here, ventilated roofs make the most sense to prevent ice dams — a ridge of ice that forms at the edge of a roof due to uneven roof temperatures that prevents melting snow from draining off the roof which can lead to damage of walls, ceilings, gutters and roof vents.
Alternatively, roofs may be designed to retain snow with snow-guards, allowing a slow melt-off to limit injuries to residents both below the roof and on top of the roof when trying to push snow off. Snow-melting systems beneath paths, drives and exterior stairs can reduce the need for shoveling and increase safety. Finally, insulation, including pipes, is essential in maintaining a safe environment.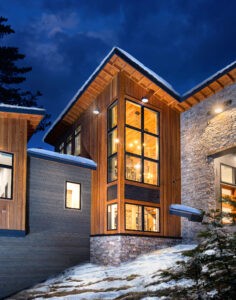 In the desert, where the extremes of temperature are endured, passive solar design shades windows and living areas in the heat of summer while maximizing solar access in winter. Use of a solar chimney can help naturally vent hot air. A current apartment project of WHA's will feature an independent micro-grid for on-site generated solar power, one of the first in the nation.
Design for weather involves a mix of common sense and strategy. Homes can be sited to maximize solar exposure and limit wind intrusion. Overhangs provide shade and divert water from foundations and walls. Interior environments can benefit by the limited use of carpet on first floors and the use of mold and mildew resistant materials. In flood-prone areas, HVAC should be elevated. Fiber cement siding is fire, insect, and weather-resistant but resembles wood siding and is nearly maintenance-free.
Climate change is affecting every area of the planet and the news doesn't stop — record temperatures at Death Valley and in Italy, record flooding in Germany and New Jersey, record hurricanes one after the other. As we find our way to arrest these impacts, we have the ability to design resiliency into homes now. We can weather the storm together.
Ron Nestor, AIA, LEED AP, is a senior principal of WHA | William Hezmalhalch Architects in Newport Beach, Long Beach and San Ramon, Calif. His focus includes commercial, mixed-use and high-density residential environments. He may be contacted at ronn@whainc.com.