Where Minimal Meets Mediterranean: The Villa Rialto Model
Five Star Interiors takes home NAHB Nationals Gold for their work on the Villa Rialto Model by Fedrick, Harris Estate Homes
By Genevieve Smith
Photography by Five Star Interiors
The Villa Rialto is a model home by Newmark Homes' custom division, Fedrick, Harris Estate Homes; the home stands in The Enclave, an exclusive neighborhood dominated by traditional Mediterranean architecture within the master-planned Riverstone community in Houston, Texas. Both builder and design partner Five Star Interiors took a risk on an interior-merchandising concept that is quite literally jaw dropping in its simplistic elegance, and is highlighted by minimal contemporary twists. Fortunately, the risk yielded its reward and the company was honored with an NAHB Gold Award at the International Builder's Show in Las Vegas this past January.
Actually taking home a total of two Nationals awards, Five Star Interiors made an impressive entrance to the prestigious list of NAHB Nationals winners—the NAHB Gold for Interior Merchandising of a Model Priced $1 Million to $1.5 Million with the Villa Rialto by Fedrick, Harris Estates, and the NAHB Silver for Interior Merchandising of a Model Priced $750,000 to $1 million with the model for Canyons at Lake Travis by Partners in Building.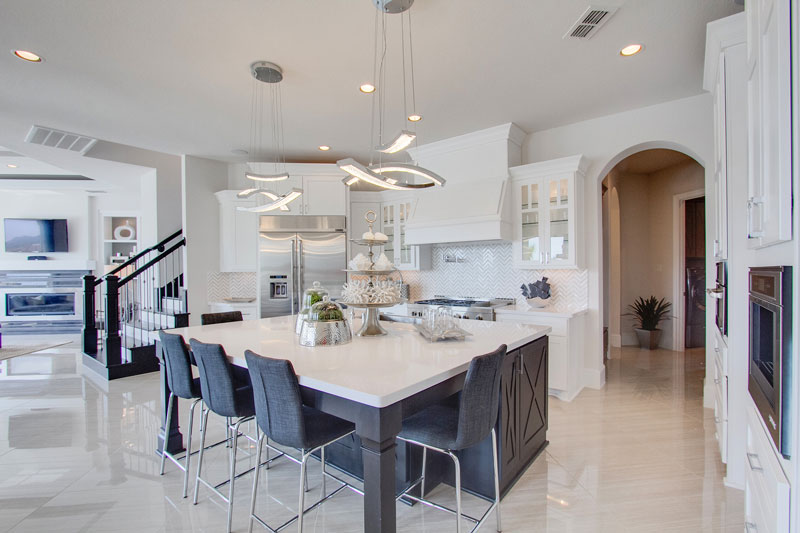 "We have worked with Newmark Homes on numerous projects for more than 10 years," said Ellen Weese, president of Five Star Interiors, Inc. "When Rodney Mican, Newmark's in-house architect, began conceptualizing the plan [that included] the two-story closet, mid-level study, and lower level wine cellar, we immediately began collaborating and the concept grew into an amazing design."
The Villa Rialto model received rave reviews from buyers, prospects, and industry professionals looking for fresh finishes and design details new to the area. "The heavy Mediterranean homes throughout this neighborhood left builder, designer, and prospective homebuyers craving a fresh, clean design," said Weese.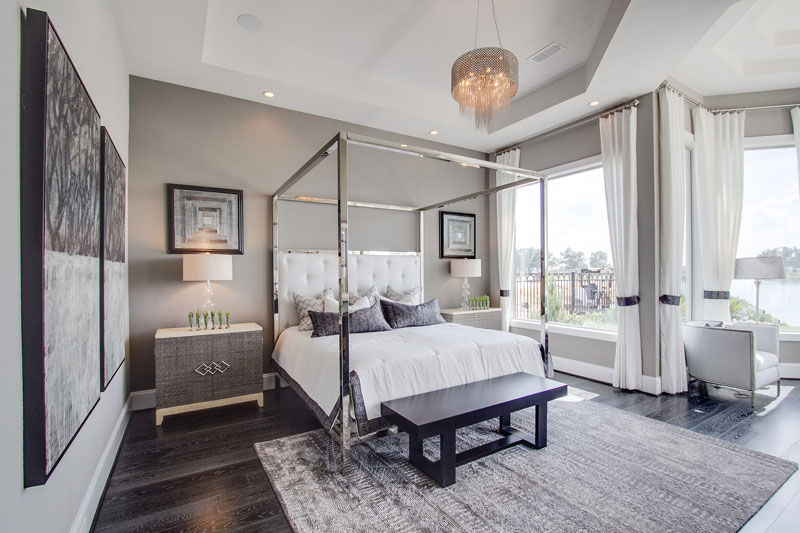 The home is situated on a lake view lot with a huge expanse of windows overlooking a pool and the lake. Walls, floors, and cabinetry were purposefully kept light to reflect natural light from abundant windows. Site lines were respected to reveal the pool and lake views. Volume ceilings were accentuated by trim details, reverse coffers, lighting, and metallic painting; all these interior elements compliment the Venetian-inspired mixed exterior finishes.
At the grand front entrance of the Villa Rialto, guests are greeted not by a wall of heavy wood or fiberglass, but rather they glide through airy, 16-foot, glass-storefront double doors. Protected by the privacy of a stone-finished archway entry, the wall of glass is the first note of the contemporary Zen that flows through the rest of the sleek home.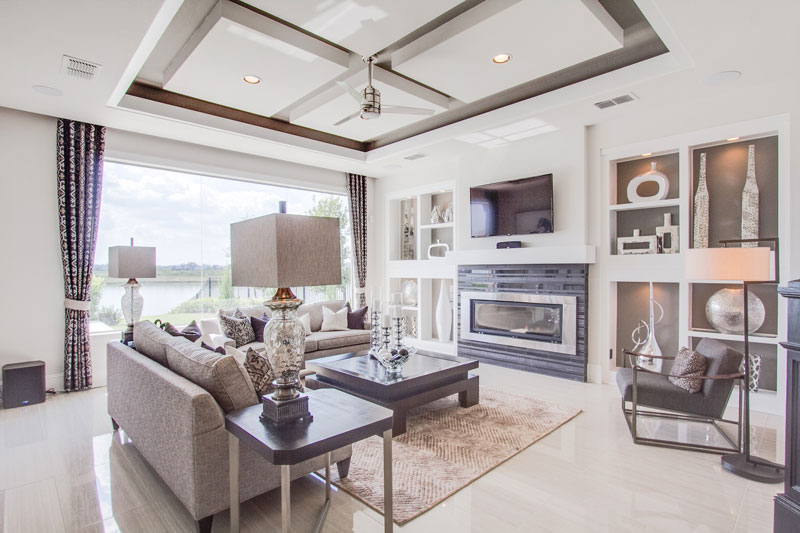 Compared to the profusion of choices available to designers today, especially at a luxury price point, the choice of the minimal front door makes a bold statement, setting the tone for similar choices throughout the villa. "After…numerous redraws on both sides, we had a working plan and color scheme. We then partnered with Angela Hobdy, Newmark's Senior Designer in their Selection Center and fine-tuned our ideas," said Weese.
The intentional minimal choices throughout the home are the more remarkable for their simplicity. "Every material in the home was hand chosen from numerous tile, granite, marble, cabinet, plumbing, and lighting showrooms to reflect our vision for this project. Meticulous detail drawings were drafted and refined during construction to perfect the final outcome," said Weese.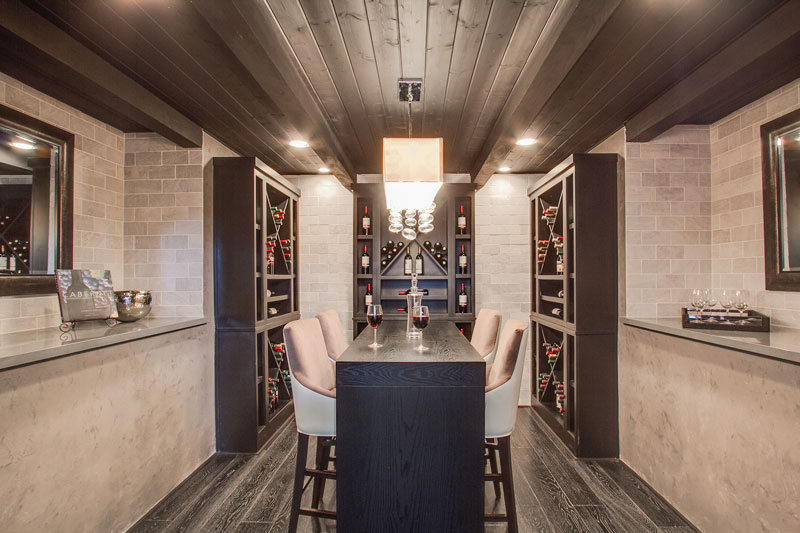 Each design element speaks of deliberate choice, highlighted by the fact that each element has little to no competition and a quiet space in which to be noticed, much like the artwork many of the elements resemble. "The 'jewelry' of this home is without a doubt the specialty lighting, which sets the tone for the interior and adds sparkle as the perfect accessory to complete the design," said Weese.
Five Star Interiors' design work spans from the first-time homebuyer to high-end luxury homes. As they state on their website, "each home is specifically designed to appeal to a particular target buyer;" no doubt about the target market of this model. With the Villa Rialto, Five Star Interiors had the advantage of knowing the needs and desires of their luxury clientele and tapped into them directly with the merchandising of the two-story closet.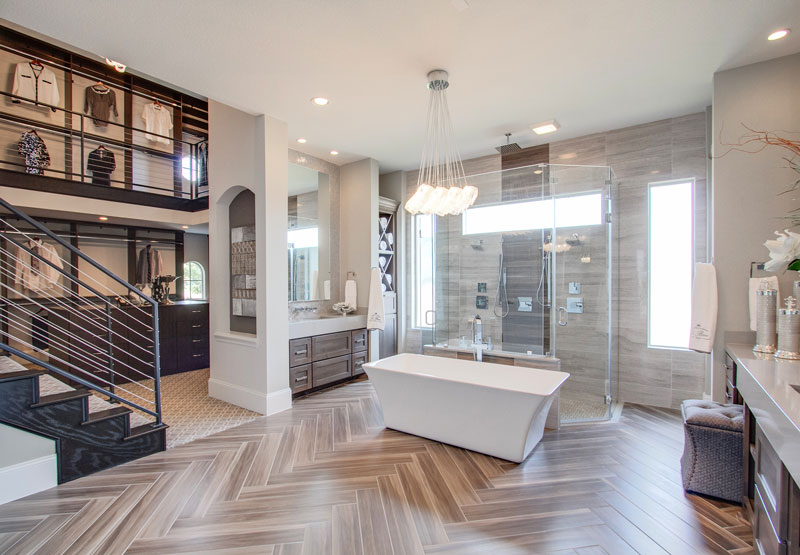 To call it a closet seems almost criminal; two stories of custom cabinetry—shelves, racks, and rods designed to showcase rather than hide a wardrobe under a stunner of a chandelier—is no mere closet. "The two-story closet in the Owners Suite is the stand out memory point of this home, [especially] merchandised with designer clothing and accessories, exquisite finishes, and an amazing chandelier," said Weese. The space turns a wardrobe back into the individually coveted items they once were on a store shelf—a shopper's personal shrine to their curated clothing collection.
As Weese describes, Newmark was uninhibited in the creative license they extended to Five Star for the design elements with their Villa Rialto model. "Newmark Homes gave us free rein to think outside of the box and create a home that is truly unique. The builder's willingness to allow improvements to an already phenomenal plan such as the Friends kitchen concept, Caterers kitchen, and unique material selections prove the capability of collaborative creative minds."
Fedrick, Harris Estate Homes by Newmark is now selling in The Enclave at Riverstone. The home sites will average 85-foot to 90-foot wide and will have a Sugar Land address in a gated neighborhood. The Royal Villa series floorplans, of which Villa Rialto is part, range from 3,600 square feet to well over 6,000 square feet. Priced starting in the low-$1 millions, they can be customized as needed.
The Enclave at Riverstone is a new gated neighborhood, located about five miles from U.S. 59 South. Upon completion, it will feature a nature path, European-style garden, sculptures, a great lawn, and vine-covered arbors. About half of the homes in the neighborhood will have frontage on a scenic lake while the remainder will have views of a creek and interior parks.
"These customizable plans will appeal to a range of buyers," said Mike Moody, president of Newmark Homes. "These are just some of the design options we can recommend as buyers look to fully customize their homes."
Genevieve Smith is an Editorial Assistant for Builder and Developer magazine. She may be reached at gen@penpubinc.com.