Own the Data, Own the Project, Own the Customer Loyalty
Why CAD? BIM brings building modeling to residential designers and builders
By Joe Stoddard
With the increasing interest in universal design and aging-in-place, residential builders and remodelers are realizing they're better off when they can maintain a relationship with their buyers over the long-term. That requires (much) better record-keeping of the products and services that are used in their projects, and the easiest way to accomplish that is to create a building information model (BIM) right from day one. Commercial contractors have realized the advantages of BIM since the '90s, but how can builders, remodelers, and residential designers get started with "little BIM?" And, which pieces of a building model make the most sense for residential users?
For most residential pros, those answers hinge on their choice of CAD (computer aided design) software. Why CAD? Since the projects we build all need to be "drawn" anyway, it makes sense to take advantage of a modern 2D-3D CAD system that can do more than just "draw lines." SoftPlan Systems' SoftPlan Pro is an excellent example. As the designer creates (draws) the project, SoftPlan is creating a virtual model of the structure, with a "database" of materials (and labor) required to build it, tracking the hundreds of manufactured products necessary: plumbing fixtures, cabinets, paint and flooring selections, and more by make and model number, organized room/area. SoftPlan is unique in that it is easy-to-use, but is also capable of managing very complex residential projects containing thousands of items.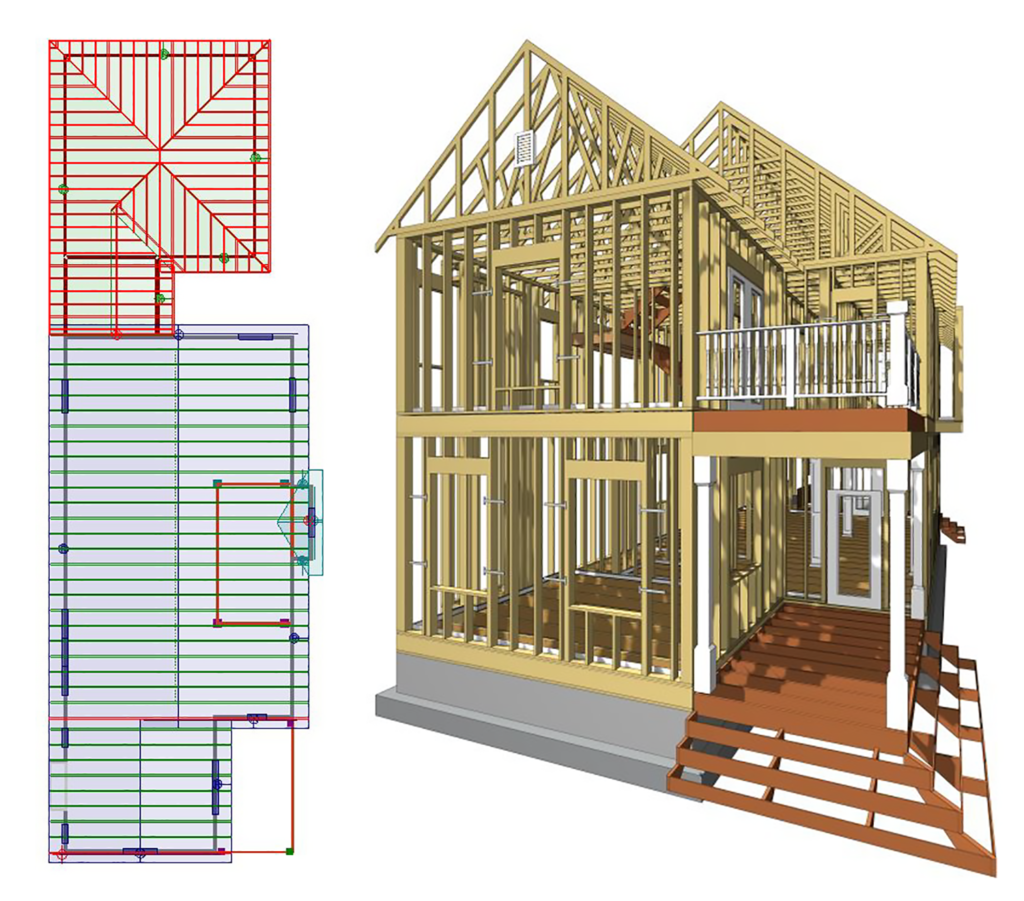 Model Data Throughout The Building Lifecycle: As your designers or drafters create their CAD drawings, they're also creating a "building model" that is an accurate representation of the 3D physical project that can be manipulated to view in 3D, sliced to create structural sections and other detail drawings, and extracted into in various schedules and reports that can be used throughout the building lifecycle. The same bill-of-materials that drives an estimate before construction can be updated with as-built items and used to assist a warranty technician later, and serve as a database of the myriad of items in the home even years later when it's time to replace a faucet or re-visit exactly how something was assembled in advance of a remodeling project. Some uses of the model data include: (this list is not exhaustive)
3D visual renderings and walk-through animations: Used to create sales and marketing materials, or to clarify construction details, textures, or colors for your building trades.
Site plans (including street plans with multiple lots) can be generated using actual survey and elevation points, and then analyzed for volumetric (cut/fill) data and sun/shade studies that use actual latitude/longitude and date/time information. The site model can be exported into Google Earth to be located on a satellite view of the owner's actual property.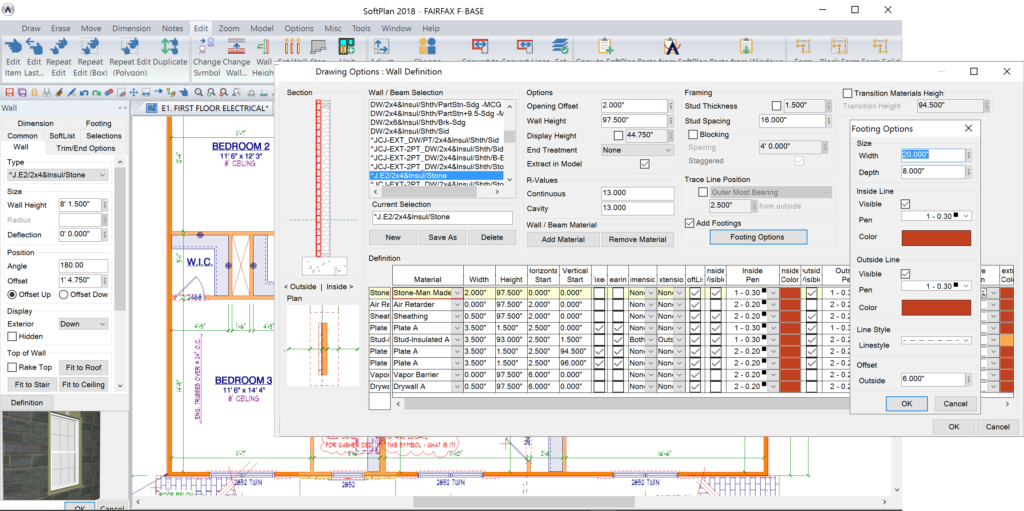 Version Control of Construction Documents: Window-door, cabinet and fixture schedules, framing panel diagrams, and cut-lists can be pulled into "live" (two-way data) schedules. An estimator or purchaser can change an item in a component schedule and the drawings and model are kept updated (without a return to the drafting dept.). Conversely, if the drawing is changed for any reason, the schedule is kept up-to-date.
Cost Estimates and contract "Exhibit A": SoftList (an optional module) is used to generate complete bill-of-materials, project cost estimates and other list-type reports of whatever has been added to the building model. More about SoftList below.
Room-by-Room component and product tracking: SoftPlan 2018 can manage interior details at a very granular level Paint colors, flooring options, decorator items, appliance SKUs, and more are kept in the project model. SoftPlan 2018 ships with over 850 fully-configurable "libraries" from 117 manufacturers, and containing over 47,000 items across all of the product categories used in a typical project, and users can add and manage their own custom libraries.
Third-Party Integration: SoftPlan 2018 can share information seamlessly with AutoCAD, SketchUP, and many other design applications. Project data can exported into spreadsheets for further analysis or third-party software such as Intuit QuickBooks or BuilderTREND.com to fuel purchase orders, or to ResCheck, the energy code compliance software provided by the U.S. Dept. of Energy (https://www.energycodes.gov/ rescheck) to estimate/document compliance with energy standards.
The latest release, version 2018, adds hundreds of new and improved production drafting and modeling features, including an even more capable CAD-assisted estimating engine (called "SoftList", it's SoftPlan Pro's programmable bill-of-materials take-off module), and faster, more accurate 3D rendering and animation.
Joe Stoddard is a building industry consultant specializing in process improvement and the smart utilization of technology. He may be reached at jstoddard@mountainconsulting. com , Twitter @moucon ,or LinkedIn JLStoddard. To learn more about SoftPlan, visit softplan.com.