William Lyon Homes Makes Waves with Lago Vista
The newest addition to the list of award-winners by William Lyon Homes, Lago Vista is already the recipient of three 2016 Silver Nugget awards, with Gold sure to follow
By Genevieve Smith
Photography by Vance Fox Photography
A lush, lakeside retreat isn't usually the first thing to come to mind when you hear the words "Las Vegas," but from amongst the sounds of slot machines and vague memories of bright lights, that lush lakeside will soon be a part of the equation. Helping to make it so, enter a show-stopper by William Lyon Homes: Lago Vista in Henderson, Nev.
In a setting nothing short of picturesque, a collection of architecturally unique and fresh new homes await homeowners lucky enough to call the community theirs. Centered on a resort-inspired lifestyle, beautiful lake views, and anchored by innovative, intuitive floorplans, Lago Vista is making more waves than the lake it sits beside; Lago Vista has already gained three Silver Nuggets for the 2016 award season, meaning the community is in the running for Gold for all three categories at the Golden Nugget Awards Ceremony this coming June.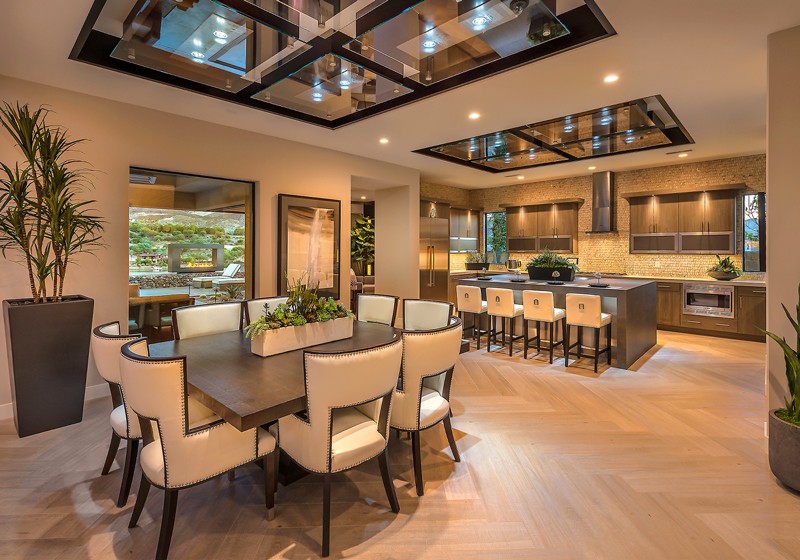 Marking Lago Vista as noteworthy to say the least, the exclusive North Shore community nestled in the Lake Las Vegas master-plan offered a rare opportunity for perennial builder William Lyon Homes to bring a production product into a mainly custom home environment.
According to Kim Chitwood, marketing director for William Lyon Homes, the community "began as a goal of 'one‐upmanship'—pushing the boundaries of architectural design to exceed the natural beauty of the site." This was a goal in which the architect Patrick Edinger of Edinger Architects more than rose to the challenge to fulfill.
There was a simple answer to accomplishing this feat: William Lyon Homes and Edinger Architects studied what already existed and worked, which included everything from Tuscan to Minimalistic Contemporary design. They then developed three architectural styles in an effort to appeal to a wide market, which could be defined as Transitional Contemporary, Modern Contemporary, and Desert Contemporary styles.
"We also desired to explore new designs, methods, and installations to enable us to achieve a 'fresh look' in the production residential world today," said Chitwood.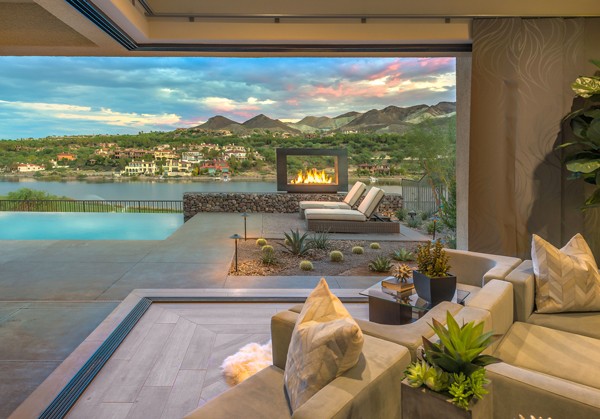 You wouldn't know it to look at the finished product, but according to Chitwood, the major obstacle for Lago Vista was finding balance for the product in all respects. When asked about the largest hurdle faced by the team responsible for Lago Vista, she responded that combining "new, innovative, and imaginative with cost effective, in addition to the ability to build within production-based schedules to meet business plans and projections, all while meeting the competitive price points of our market," became the main objective.
That the team succeeded in meeting their objective is an understatement; the visually engaging end product speaks for itself. From its splendid street-scene approach to the views of the rear elevations from upon the lake, the homes of Lago Vista are uniquely striking as they occupy their enviable North Shore sites, thanks to the synchronous effect of the architectural design incorporating both land and structure.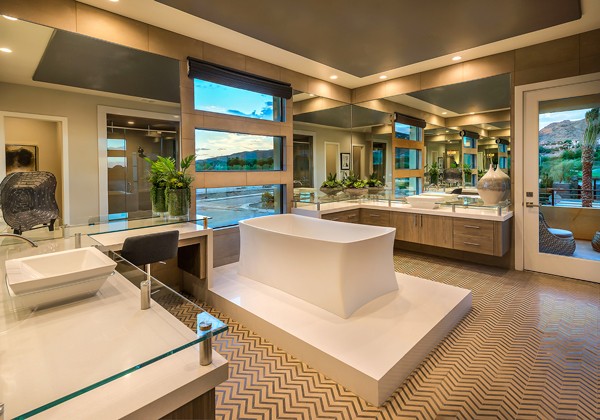 Moving inside the homes, gracious living and entertainment are elevated to new heights with foyers and great rooms filled with an abundance of volume and natural light. Gourmet kitchens and gathering spaces feature expansive views through covered verandas or interior courtyards. Added in are 'his and hers' sinks with independent counter area in the master bath, separated by focal-point tubs that could easily be confused with works of art; the spa-like space is an enticing feature for anyone shopping for a new home—not to mention the picture windows once again framing idyllic views of the lake.
"Both interior design and exterior land and hardscape elements were carefully selected in a coordinated blending of both the natural surroundings and the lifestyle within," said Chitwood. "The success is evident from first approach to the placement and enhancements of the sales center, through pathways and on to the extraordinary living environments found inside and out of each model."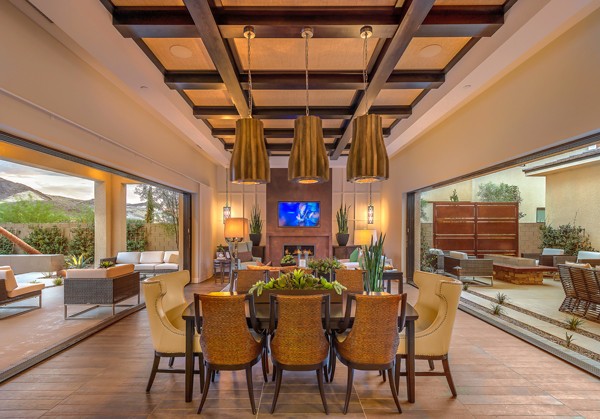 Speaking of extraordinary living environments, the definitive configuration of the open-concept floorplan of the main living area is framed on either side by sliding walls of glass that can be folded away at a whim, thereby creating a continuous indoor/outdoor space unlike any other. Master suites offer elegance befitting their title, and secondary suites include spacious quarters, each with its own covered deck or balcony.
Created in a setting as striking as the homes themselves, Lago Vista at Lake Las Vegas takes the concept of coming home and heightens it to the level of a destination lifestyle in itself. This exclusive, gated enclave will consist of only 52 homes at final build out estimated for 2019, 9 units of which are currently complete.
Lago Vista includes its own private beach cove with access to lake recreation, and is merely steps away from both the world class Reflection Bay Golf Club and the cobblestoned streets of famed Monte Lago Village. Mountain backdrops, golf course greens, calming waters, and tree lined lanes all combine with an intimate village lifestyle carefully crafted to enhance the leisurely grace and charm of this Mediterranean inspired resort community that is sure to inspire others itself.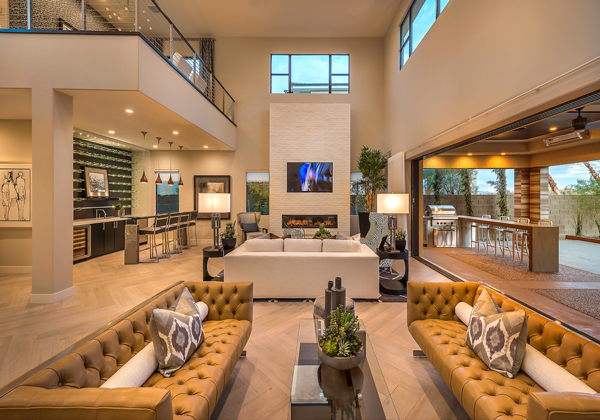 In fact, it already has inspired another similar community from within William Lyon Homes itself. Affinity will offer a village lifestyle with an urban twist, bringing four unique living arrangements to one of the most desirable locations in the Las Vegas valley. "In the center of it all, Affinity is Downtown Summerlin close, Red Rock ready, and mere moments from I-215 access that places the entire west side within easy reach," said Chitwood.
At both of these exemplary locations, residents will enjoy the signature design and function found in William Lyon's meticulously crafted and sophisticated homes—showcasing living spaces of unmatched style designed for entertainment and casual luxury, and with the inclusion of the immediate area's unimaginable convenience. Rich in features, value, and community amenities, Lago Vista and Affinity are destined to completely redefine the meaning of the Las Vegas lifestyle.
Genevieve Smith is an Assistant Editor for Builder and Developer magazine. She may be reached at gen@penpubinc.com.