Windsong Ranch Wins Community of the Year
The Dallas Home Builders Association announced last month that Windsong Ranch was named Master-planned Community of the Year.
The 2,030-acre development promotes a healthy, active lifestyle and a strong sense of community. There are 600 acres of green space woven throughout the community that include parks, creeks, ponds and miles of hike and bike trails.
"We continue to set the new standard for residential development in North Texas," said Craig Martin, Founding Partner of Terra Verde Group and Windsong Ranch developer. "Windsong Ranch has exceeded all of our expectations and these industry awards reemphasize why our residents love this community."
Upon a projected 10- to 12-year build-out, the $1.2 billion Windsong Ranch community, located 2.5 miles west of the Dallas North Tollway on Highway 380, will consist of 3,100 single family residential lots; 150 acres of mixed-use development along U.S Highway 380; and 600 acres of open space with native preserves, trails, and parks. The developers chose this location because Prosper is the newest, biggest growth area along the Dallas Tollway corridor.
The homes range from the mid $300s to the $900s and cater to a large pool of potential homebuyers; however, the community generally attracts the move-up buyer. Model homes for Highland Homes, Drees Custom Homes, Darling Homes, and Huntington Homes are currently open. Pre-sales are underway for David Weekley Homes and Chesmar Homes, with their models scheduled to open this month. Grenadier Homes will host the grand opening for their model in late 2015 and will add townhomes to the community later this year, as well.
The current single family homes in Windsong Ranch range from 2,250 – 5,600 square feet and provide a great variety of size and function with the vast number of builders involved.
Windsong Ranch has been brought to life by a large team of talented individuals among the industry. Terra Verde Group is the owner and developer of the community. The creative design team includes Good, Fulton & Farrell as the architect; TBG as master-planners and landscape architect; Creative License International for interior design and welcome center concept; and Anderson Hanson Blanton as the advertising agency and sign design.
The Commons area is the heart of the neighborhood that sits atop a hill with a view of a two-acre lake, where residents enjoy cooked-toorder food at the Windsong Café, an outdoor living room, resort-style pools with cabanas and grilling areas, an event lawn, amphitheater, state-of-the-art fitness center and kids play areas. Future amenities will include a tennis complex and a championship disc golf course.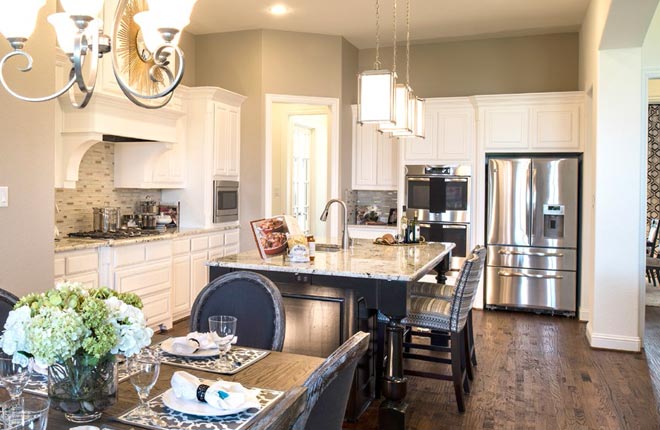 Windsong Ranch is the first and largest masterplanned development in West Prosper.
Developers partnered with the city of Prosper to lay $5.1 million in infrastructure for water and sanitary sewer service, setting the stage to serve 20,000 residents in the west part of town (4,700 households) and about 1,000 acres of nonresidential/ commercial development. The cost was shared with adjacent property owners with planned developments in the area. Approximately two miles of sanitary sewer lines and five miles of water lines were constructed.
The property is unique in that its existing topography included natural creeks and hills throughout the area while most of the surrounding land was all flat farmland. This unique natural setting inspired the community's natural theme and goal to tread lightly on the land using natural building materials and passive open space throughout the amenity centers and green space.
"We wanted something special to create a sense of community while providing a luxurious welldesigned aesthetic that blends in with our natural landscape and rolling terrain," Martin said. "It is truly different than anything else you will see in a master-planned community in North Texas and will raise the bar on what state-of-the art lifestyle living should be like in residential communities."
The community's amenity center, designed by Good Fulton & Farrell, a Dallas-based architecture firm, used a material palette consisting of locally quarried natural limestone, Brazilian Ipe wood siding, steel, glass and metal. "The design was inspired by authentic Texas vernacular but with a contemporary interpretation that is reflected in the abundance of clean lines, glass, and light," Martin said. "The architecture reflects historical Texas prairie design, which had dog runs and low roofs for natural cooling."
These materials provide richness, strength and durability while still conveying a modern feel. Expansive and sheltering roofs covered in standing seam metal protect the glass enclosed interior spaces, as well as the large outdoor gathering spaces. The Ipe is a well-managed and highly renewable natural wood, which requires no chemical treatment to last 50 years. The roof deck is made of Douglas fir, another wood species known for its strength. The steel structure and mechanical systems are left exposed and are cleanly detailed so that they become an integral part of the composition.
Not only has the team aimed to protect the environment during the building process, but Drees Homes, Highland Homes, Darling Homes, and Huntington Homes all have energy-efficient features based on HERS, developed by RESNET (Residential Energy Services Network), which is the nationally recognized system for inspecting and calculating the energy performance of both new and used homes.
There have been 105 homes sales among the community and 27 families currently call Windsong Ranch home. Phase II of the community will open this month with homes by David Weekley Homes, Huntington Homes, Darling Homes, and Chesmar Homes.
"The innovation and investment made on luxury amenities at Windsong Ranch will set the standard for new master-planned communities in North Texas," Martin said. "The recognition and number of awards the community has received validates our vision and commitment to building a world-class community."
Other awards for Windsong Ranch include The Nationals Silver Award winner for Best Signage, Best Welcome Center, and Best Master-planned Community of the Year at the NAHB International Builders Show in 2015. The community also won Best Logo Design and Best Master-planned Community Concept at the 2013 McSam Awards.
Tamara Philips is the Managing Editor for Builder and Developer magazine. She may be reached at tamara@penpubinc.com.