Withee Malcolm Architects Takes Home Two Gold Nugget Grand Awards Bloomington Grove and Lillian Court, Metro Village Top Their Affordable Categories
Los Angeles, CA – Withee Malcolm Architects was on the podium to receive Gold Nugget Awards for two affordable communities at the ceremony on June 29, 2017 during the Pacific Coast Builders Conference (PCBC) in San Diego. The firm garnered Grand Awards for Best Affordable Housing Community-under 30 du/acre for Bloomington Grove and Lillian Court in San Bernardino County, CA and Best Affordable Housing Community-60 to 100 du/acre for Metro Village in Baldwin Park, CA. The PCBC is one of the leading building industry conferences in America where excellence and originality are showcased. The Gold Nugget Awards "recognize those who improve our communities through exceptional concepts in design, planning and development." Withee Malcolm has been honored by the Gold Nugget Awards 20 times in the last 10 years—testament to Withee Malcolm's enduring commitment to innovation, affordability and sustainability.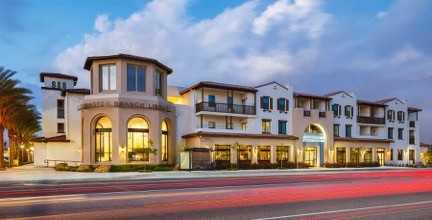 "Working with exceptional developers and outstanding consultants who share our commitment to creating quality affordable housing is an honor and we share these awards with them," said Dan Withee, AIA, founding partner of Withee Malcolm Architects. "The Related Companies and ROEM Development Corporation are visionary clients who are catalyzing change in our communities with their projects. Together we are making a difference."
Bloomington Grove and Lillian Court are the residential components of a California Mission style, mixed-use community that changed a disadvantaged area by successfully integrating public social uses and affordable housing. The development offers 70 senior units, 36 family units and 11 supportive housing units for special needs tenants, a 6,500-square foot public library, a senior community space, a community center and classroom facility. Social services include after school programs and educational classes. In honoring the project, the judges were impressed with this intergenerational, affordable community that incorporates a public library and that the community was designed with the residents' quality of life in mind.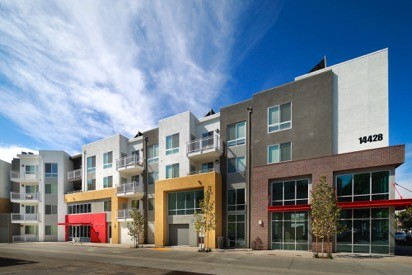 The judges were also complimentary of Metro Village, a new mixed-use, transit-oriented development with 70 affordable units, recognizing its well-executed design, unique site planning, and architecture. They said, "The building types are carefully designed utilizing irregular shapes as a response to the site constraints. The result being the creation of third places and open spaces to encourage social connections and interactions. The elevations were skillfully crafted with executed massing and layering of materials and details. The use of bold colors and accents brought energy and freshness to this amazing project. A truly outstanding effort, well deserving of this award."
Withee Malcolm Architects serves clients in the residential and commercial industrial markets throughout the West from their offices in Torrance, California. For more information on the firm, visit www.witheemalcolm.com