Woodside Helps Homebuyers Define their Design Vision
By Marco Martinez
Since 1977 Woodside homes has been building homes that provide lasting value.
They use the latest home building technology and construction materials and methods to improve the quality of each new home and improve efficiency. With the robust recovery of the Texas housing market still going strong, builders are finding creative ways to appeal to buyers' shifting preferences and differentiate their new home communities from those of their competitors. Woodside Homes is constantly looking for new ways to serve their markets and integrate great design with green solutions, to provide great value.
One such example of this value is Woodside's Valencia Park community, located in the San Antonio, TX. Woodside Homes has placed a top priority on personalization here as a way to cater to buyers' tastes, while adding a unique aspect to this collection of single-family homes priced from the $370,000s. From the varying streetscapes to the diverse array of design options, Valencia Park offers residents an appealing alternative to the cookie-cutter look that has traditionally dominated new home communities.
Situated in a picturesque area of Comal County, which touts itself as one of the fastest growing counties in Texas, Valencia Park is a gated community that offers residents a sense of neighborhood while affording them the opportunity to individualize their homes in a way that perfectly suits their personal tastes. Available in one- and two-story designs, the residences are built on oversized, half-acre lots with spectacular hill country views. In addition to a peaceful environment and the convenience of city living, the community offers a special spate of design options that makes the personalization of each home a fun and foolproof process for buyers.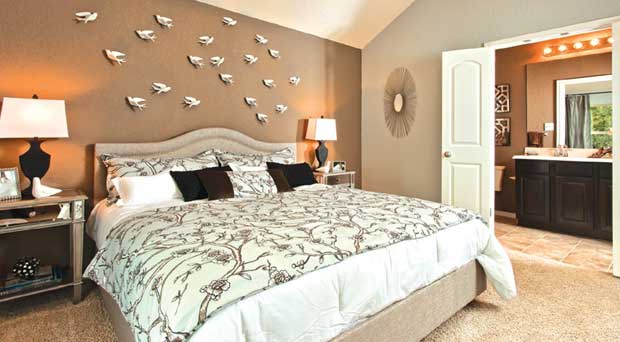 Choices abound at Valencia Park, starting with a selection of seven different floor plans that range from 2,554 to 4,200 square feet and include up to six bedrooms and five-and-a-half baths. Many floor plans offer popular options such as spa baths with walk through showers, media rooms with 7.1 surround sound and outdoor living spaces with fireplaces and kitchens. Other favorites include paver driveways, eight-foot interior doors and expansive, energy-efficient windows. An extensive list of pre-planned and prepriced options and upgrades are available, which includes flexible room uses and room expansions. Buyers can also pick from numerous design elements, many of which come standard with the homes, such as islands and breakfast nooks in kitchens, dual vanities, separate showers and tubs, media niches, volume ceilings and arched or angled doorways.
Personalization is also at the heart of the Better by Design concept that has been incorporated into the community. Thanks to this novel approach, buyers who purchase a residence at Valencia Park can create a home that truly reflects their lifestyle. The first step of the Better by Design process involves taking a brief questionnaire that can be accessed online or filled out in the sales office. Written in a lively and engaging style, it analyzes buyers' answers and provides them with a Style Profile – either Classic, Eclectic or Contemporary – which can then be used to guide their choices throughout the entire design process. Woodside created these three distinct Style Profiles to best cater to buyers' tastes after thoroughly analyzing consumer research on the most favored design styles across the nation. From there, awardwinning interior designers were brought in to carefully cull a selection of design options for each Style Profile that complement each other perfectly. "We made sure that all the options we chose look great together," explains Ericka Moody, Chief Creative Officer at Design Line Interiors, a full-service interior design firm that worked on the concept with Woodside. "So no matter what selection buyers make, their place is going to look beautiful."
All of the homes at Valencia Park are merchandised to reflect the three different Style Profiles, with options available in both Cool and Warm color palettes, so customers can easily create a flawless look that captures the essence of their personal design aesthetic. "Woodside has tried to merge lifestyle and design by creating a unique process that really allows buyers to personalize their plans," says Mollie Carmichael, Principal at John Burns Real Estate Consulting. "The goal is to take the buyers' personalities and match it to their tastes, while giving them multiple styles to select from."
This fresh approach to design at Valencia Park taps into the significant shift in home buyers' preferences that has occurred in recent years. "It really takes this great home design to get them over the finish line," Carmichael explains. Her firm, which is an independent research provider, conducted a comprehensive study whose results showed a surprising change in consumer focus. "One of the epiphanies we had was that home design was a top motivator," Carmichael says. Home design ranked as the second most important characteristic for a home purchase in the Consumer Insights 2011 study, which polled just under 10,000 prospective buyers. And in the Consumer Insights 2012 study, which surveyed more than 20,000 shoppers, home design rivaled location for the top slot, once again beating out factors such as price, safety and accessibility.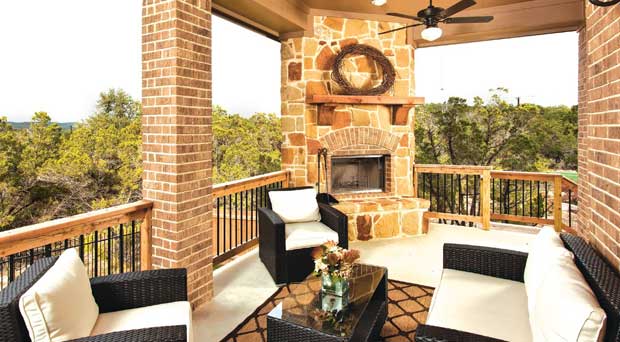 "Woodside Homes recognizes the importance of design in the new home industry," says Lisa Kalmbach, Partner at real estate investment and marketing company New Montgomery Partners. "One of the reasons why consumers purchase a new home versus a resale is that they are looking for the latest in home design. However, design can be intimidating to consumers, so Woodside Homes has simplified this process." The Better By Design concept has also been incorporated into other Woodside communities in the San Antonio area, such as Willis Ranch and Harper Oaks. Customers at either of these communities can access an Inspiration Wall (iWall), which is an interactive tool designed to further simplify the design process. By using their Style Profile as a guide, home buyers can identify which options displayed on the Inspiration Wall will create a cohesive look when combined together. "The Inspiration Wall makes the process of designing the home interiors easy and fun," says Kalmbach. "The consumer can't make a design mistake. Woodside has made sure of that."
In addition to the Inspiration Walls, the models themselves serve to bring the Style Profiles to life. "It is really helpful for home buyers to walk through the models because then the salesperson can give them guidance in regard to the style they are gravitating toward, such as which products were used to achieve their favorite look," Moody explains.
Whether purchasing a residence at Willis Ranch, Harper Oaks or Valencia Park, customers can tap into design expertise long after they have bought their home, thanks to Woodside's BBD blog. This online resource features posts from professional designers who offer tips and ideas inspired by the Classic, Eclectic and Contemporary looks. As such, Woodside customers can continue to refine their design vision with free, professional advice tailored to their Style Profile. "The Woodside team has really simplified a process that can be overwhelming for the consumer and can slow down the home purchasing process," Kalmbach says. "Now the consumer can find their style online, read about design trends in the BBD blog, view the products on the Inspiration Wall and see how the design all comes together in the Woodside models."
With new home construction on the rise throughout Texas, savvy builders are realizing that incorporating innovative concepts into their communities is becoming more crucial than ever. As construction picks up, so will competition. And fresh approaches that tap into consumers' changing tastes can go a long way in setting a new home community apart from the rest of the pack.
Marco Martinez is an assistant editor for Builder and Developer magazine. He may be contacted at mmartinez@penpubinc.com.