Woodside Homes' Bets in Las Vegas Pay Off
Although prices in the Las Vegas housing market have become legendary, rising and falling like the fortunes of a high-stakes gambler, the region is now one of the hottest in the country as builders such as Woodside Homes enjoy success with masterplanned communities like Summerlin. Woodside Homes, a builder in the Las Vegas market, is celebrating its 40,000th buyer. This milestone is worth investigating because it shows that when builders create a product based on what buyers actually want, success will follow.
One of the reasons for this success is the groundbreaking "Better by Design" process that Woodside Homes created to help home buyers select features, finishes and more. The first step of the Better by Design process involves taking a brief questionnaire (it can be accessed online or filled out in the sales office). The answers provided give insight into stylistic preferences: Classic, Eclectic or Contemporary – which can then be used to guide home buyers' choices throughout the entire design process. The product lines are coordinated by some of the most talented designers in the industry.
Woodside created these style profiles to best cater to buyers' tastes, after thoroughly analyzing consumer research on the most favored design styles across the nation. From there, award-winning interior designers were brought in to carefully cull a selection of design options for each Style Profile.
In a Consumer Insights 2012 study, which surveyed more than 20,000 shoppers, home design rivaled location as the most important characteristic when considering a new home purchase, again beating out factors such as price, safety and accessibility. And perhaps nowhere is design more important than fabulous Las Vegas. Here, Woodside Homes truly puts the emphasis on a fresh approach to the designs and features buyers insist upon.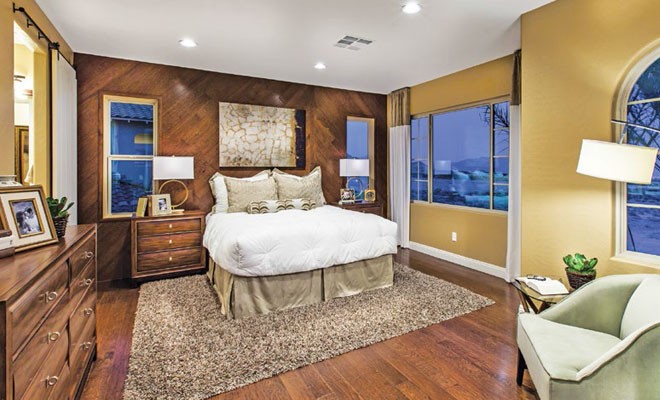 "Woodside Homes spends a lot of time on the design of our homes because we feel it says everything about the home owners who purchase them. We go to great lengths to ensure that these designs, not to mention the features, finishes and amenities, enhance our buyers' lifestyles," said Kent Lay, Division President of Woodside Homes of Nevada.
The Better By Design concept has been incorporated into all Woodside communities in the Las Vegas area and beyond. With new home construction again on the rise throughout Nevada, savvy builders are realizing that incorporating innovative concepts into their communities is becoming more crucial than ever. As construction picks up, so will competition. "Woodside Homes recognizes the importance of design in the new home industry," says Lisa Kalmbach, Partner at real estate investment and marketing company New Montgomery Partners. And in the Vegas market, the company's 40,000th buyer is all the proof needed that a bet on design is a winner.
When Money Magazine included Las Vegas on its 2014 list of big cities offering value, one example cited was the master-planned community of Summerlin, which continues to be the most successful master-planned community in Las Vegas. The magazine enthused about the 150 miles of trails and diversity of lifestyle amenities (tennis, golf, playgrounds, and more). Woodside Homes offers a variety of compelling opportunities within the master-plan: Cielo de Estrellas, Cielo de Oro, and Belmonte. An additional Summerlin community, Cielo Diamonte, is coming soon with a grand opening date to be revealed in the near future.
The "Cielo" and "Belmonte" communities are in very desirable Summerlin locations. In addition to community amenities, the Summerlin master-plan offers views of the city, the strip, and the stark beauty of the surrounding mountains. The new home plans are designed for what Woodside Homes calls the "active" resident requesting features such as, spa showers, indoor and outdoor recreation areas, and even real pizza ovens!. Take a look inside the homes and you'll see all sorts of options built for the contemporary Vegas home shopper. Spacious rooms for family fun, gourmet kitchens with food-prep islands and top-of-the-line appliances. Some designs provide a loft or den that may be selected as an optional extra bedroom. All the Las Vegas homes are built with modern features and smart energy-saving principles to keep utility bills down.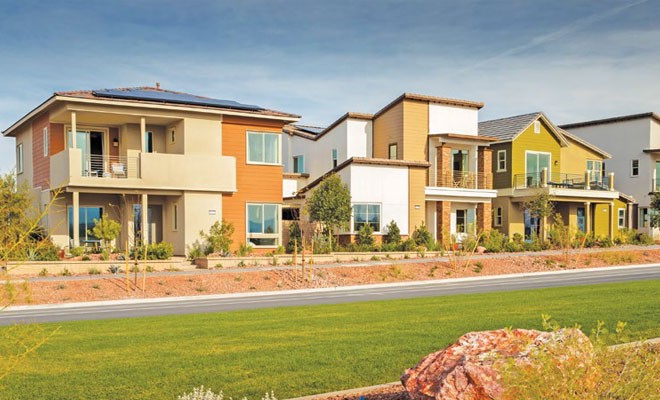 Homes at Cielo de Estrellas range from 2,296 to 2,621 Sq. Ft. Prices are from $329,490 to $343,990. Homes at Cielo de Oro range from 2,102 to 3,147 Sq. Ft. Prices are from $374,490 to $428,490. The very spacious Belmonte homes range from 3,202 to 3,934 Sq. Ft. Prices in this tucked away section, these magnificent homes have prices from $559,990 to $612,990.
Woodside Homes offers several communities in the Vegas area, including The Park in Cadence, located in nearby Henderson. Cadence features 119 large new homes with high-end features and fabulous views. This community offers some of the most unique floor plans in Las Vegas today, boasts views galore, and has amenities for all buyers. The homes are all two stories, offer abundant entertaining space both inside and out, and are "rear-loaded" meaning the garage entrance is towards the back of the home. They range from 2,500 Sq. Ft. to 3,000 Sq. Ft. Prices range from $395,990 to $432,990.
Emerson in Providence is a quiet neighborhood with a zero-down solar-powered utility system located in an ideally-situated master-planned community in northwest Las Vegas. Stetson Trails boasts an ideal location for those who want to be close to shopping, dining, and entertainment. These highly-flexible homes are "solar ready" and are built with the latest in design trends in mind. La Jolla at Tierra Santa and Geyser Peak are both gated communities in North Las Vegas. La Jolla at Tierra Santa offers a community pool, a park, and easy access to both parks and trails plus shopping and dining. Three stunning plans are available. The large home sites at Geyser Peak offer up to six bedrooms with plenty of space, including RV parking. The community is conveniently located near beautiful hiking, shops and restaurants.
Convenient locations are one of the main reasons why Woodside Homes has been able to achieve strong sales in Nevada. "The masterplanners love to work with us and we've added to our land pipeline substantially in the last couple of years in Las Vegas. We believe it's a strong market," said Lay. "When it comes to locations, we're very cognizant of where our buyers want to live and so these relationships with the developers allow us to be in these prime locations."
Christine Rombouts is a former editor for Builder and Developer magazine. She may be reached at crombouts@ca.rr.com