Zero Energy Market Growth is All About Push
New research shows industry leaders are driving momentum, not customers
By Shilpa Sankaran
Zero-energy homes are a market opportunity of massive proportions. In 2013, Lux Research announced, "Driven by rising global awareness of the impact of building energy consumption on climate change, materials boosting building energy efficiency will reach $16.5 billion in sales in 2017 [and] nearly-zero energy buildings will soar more than six-fold to 80 million m2 in 2017." The homebuilding industry, however, has yet to create compelling messaging to encourage consumers to buy zero-energy homes. Numerous pioneering builders have developed messaging about air quality, lower energy bills, and longer-lasting homes to distinguish their zero-energy homes as premium products. Still, we don't have the mass market clamoring for zero-energy homes. They just aren't getting it. So why should builders jump into this new market?
This question couldn't be answered without first understanding the current state of the residential zero-energy market. In 2015, the Net-Zero Energy Coalition (NZEC), the largest continental network of zero energy leaders in North America, set out to investigate this. The result, "To Zero and Beyond: Zero Energy Residential Buildings Study," is an inventory of residential single and multi-family buildings on the path to zero energy (give or take) in Canada and the U.S. The goals of the study were to first understand the order of magnitude of the market, and then provide a baseline for measuring growth and trends moving forward.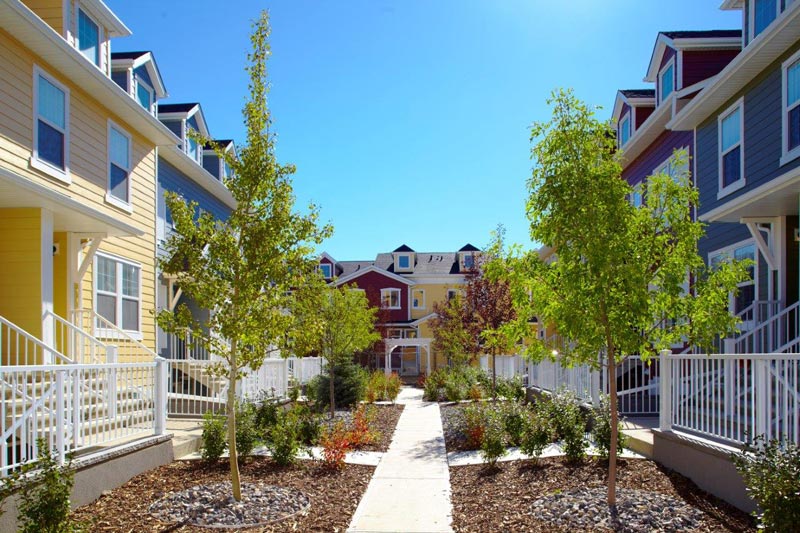 Photograph by Avalon Master Builder
NZEC catalogued 408 projects comprising 6,177 units in 3,339 buildings on the path to zero. This represents a fraction of the total residential construction market, but rather than a small blip on the radar, it's a sign of things to come. The inventory also identified 4,456 additional units that are planned, in design, or under construction—a 72 percent increase over the units built to date.
Does this mean customers are demanding zero-energy homes now? Not yet. So what accounts for the growth? To answer this question, we need to look no farther than the smart phone. We thought we were so much more productive, connected, mobile, and cutting-edge with our flip phones. Nobody asked for more, but everything changed when, in 2007, the first iPhone was introduced. By 2012, there were over 1 billion smartphone users worldwide. The market didn't demand it, but the industry created something they knew was better. Innovative companies, such as Apple, took all the risk and stood firm in the belief that this was the next wave. They used a "push" strategy.
This is exactly what is happening with the zero energy market. A community of leading-edge builders and developers are taking a gamble. They are designing, building, and selling zero-energy homes based on the belief that this "push" strategy will fuel demand from a mass market of homebuyers who want to join the trend. Nearly all—95 percent—of the zero-energy units built to date are in multi-unit projects (detached and attached); they were not created in response to consumer demand. Clearly, the industry holds the power to create a new trend that can be successfully absorbed by the market.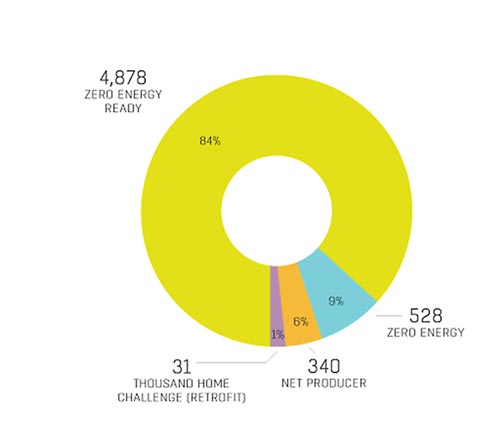 Also driving the market innovators are the innovative policy makers. It is not surprising that 46 percent of zero-energy homes are in California. In 2007, California adopted goals for all new residential construction to be zero energy by 2020, and all new non-residential construction to be zero energy by 2030. Following California's lead, the Massachusetts Department of Energy Resources in 2014 launched the Pathways to Zero Net Energy Program, a $3.5 million initiative. This has put Massachusetts in second place next to California, with 7 percent of North America's zero-energy homes.
Earlier this year, 12 cities from across North America—and London, UK—convened to build a policy framework that would bring all buildings in their cities to zero energy by 2050. Based on the precedents of California and Massachusetts, it is only logical to assume the same market growth will happen in these cities and others planning to follow.
The NZEC study shows it's not all about a purist approach to achieving absolutely zero net energy: 86 percent of the units inventoried are zero-energy ready, i.e., renewable energy does or could supply 90 percent or more of annual energy demand. These projects demonstrate the power of starting on the path to zero, saving as much energy as possible through proven energy efficiency strategies (documented in an online, publicly accessible, case study database).
NZEC's study is a call to action to the industry to create our own destiny, and pave the way for an exciting future of homebuilding. Messaging, though helpful, is not enough and will not in of itself create demand. Market demand will follow once the market actually experiences these homes that, in the words of the U.S. DOE Zero Energy Ready Homes program, "live better." It is up to market leaders to step up and take first mover advantage toward this inevitable trend.
Shilpa Sankaran Shilpa Sankaran is the executive director of the Net-Zero Energy Coalition. NZEC's members are manufacturers, cities, non-profits, builders, and others who are accelerating the market toward zero-energy buildings and communities. To find NZEC's summary infographic and full inventory report, visit http://netzeroenergycoalition.com/inventory-infographic/.