Will the Long-Anticipated Builder Cost Relief Materialize?
Drive to solve affordability and lower construction costs continues to shape homebuilding activity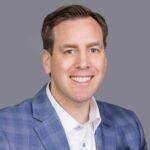 By Matt Saunders
Builders entered 2023 optimistic that building material cost relief was around the corner. 
Supply chain disruptions—a prior source of building material price volatility and widespread shortages—had become more infrequent. And higher interest rates were having their intended effect on the demand side of the economy: interest rate sensitive sectors were contracting, providing further opportunity for supply chain snarls to untangle. 
The impact of higher interest rates was most apparent in the housing sector: single-family housing starts, since peaking in February of 2022, were down 27% to begin 2023 and housing investment continued to subtract from real GDP growth.
Building material cost relief was the anticipated positive aspect of an ongoing housing recession.
As one builder noted as we entered 2023: "We think most of the [extraordinary] cost increases are now behind us. We are setting a course for cost reductions, but not many have been realized other than lumber."
As builders respond to a housing market that is increasingly unaffordable, watch for builders to continue to mitigate persistent building material cost pressures by building smaller homes."
Building Material Costs Explained by Two Factors
Our analysis indicates two factors account for a large part of the differences in building material prices (costs from the perspective of the builder). 
Material Type: Rough vs Finished. Historically, price inflation for finished building products is relatively stable. By contrast, rough building materials, with less manufacturing value-added content and less capacity to differentiate their individual product characteristics, are more correlated with macro conditions and subject to boom-and-bust price cycles.
End Market Exposure: Repair and Remodel vs New Construction. The residential repair and remodeling market is about 1.8X the size of the new construction market for building materials, with around half the volatility. Building products sold more into the remodeling segment have less volatile price inflation, and are less prone to price declines, over economic cycles. 
Building Materials Dealers' Price Expectations for 2023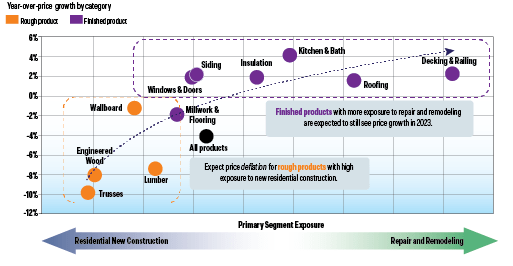 Building Material Dealers Agree. Every month we survey building material dealers from across the country, representing approximately $6.6 billion in annual revenue from products sold to their home builder and professional remodeler customers. Consistent with our analysis, building material dealer price expectations to start 2023 clustered along these two factors. Price increases were expected for finished building products with higher repair and remodeling exposure; price decreases were anticipated for rough building products sold more into the new construction segment.
Set-Up For 2023 Dashes Hopes for Broader Builder Cost Relief Outside of Lumber 
Housing units under construction were at historic highs as 2023 began. While starts have come down, from peak 2022 levels, completions have not, as builders continue to deliver a consistent number of mostly pre-sold homes each month, drawing from the stock of homes under construction. 
The implication of this setup is underlying new construction demand for early-stage materials (more correlated with starts) is down, while demand for mid to late-stage materials (more correlated with completions) is steady.
Building Materials Installed by Stage of Home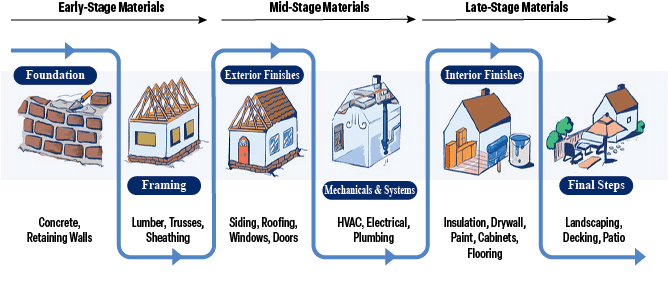 From this standpoint, it is no surprise that 2023 builder cost relief to date is almost entirely due to lower lumber prices —a rough building material, with greater new construction end market exposure, and within the new construction segment, considered an early-stage material installed at the front end of the build process.
As builders will tell you: Most cost reductions outside of lumber have yet to materialize.
Builders are Adapting to Persistent and not Transitory Building Material Cost Pressures 
Building material prices are up almost 40% from December 2019 levels.
What should builders expect for building material prices over the back half of 2023? Will builders realize the long-awaited reset of costs or will building material price levels remain elevated? 
The most likely outcome is building material cost pressures will prove to be more persistent than transitory. 
Nothing happens in a vacuum. Builders are adapting to this expectation by building smaller homes. 
Fundamentally, every major housing market in the country is unaffordable. Builders have a strong incentive to reduce the cost of building homes, solve for affordability and meet prospective buyers at a viable price point. Building smaller homes is part of the strategy to offset construction costs and reset affordability. Our New Home Trends Institute's Residential Architecture and Design Survey points to smaller home sizes as a multi-year trend.
As builders respond to a housing market that is increasingly unaffordable, watch for builders to continue to mitigate persistent building material cost pressures by building smaller homes. The ongoing drive to solve for affordability, and lower construction costs, will continue to shape home building activity—this year and in the years ahead.
Matt Saunders leads building products research at John Burns Research and Consulting, including the firm's building products thesis and forecasts. He may be reached at msaunders@jbrec.com.